The components for the warheads are made at AWE Aldermaston (Atomic Weapons Establishment) in Berkshire and taken to nearby AWE Burghfield for assembly. The convoys take the completed warheads from Burghfield north to Coulport on Loch Long, north of Glasgow. At Loch Long the carriers are unloaded and the warheads placed in underground bunkers in the Trident Area.
When required they are taken to the Explosive Handling Jetty at Coulport where they are fitted onto the missiles on the Trident submarines. The warheads require to be checked every so often and batch samples are taken from the Coulport depot to Burghfield and returned to Coulport after servicing. The frequency of convoys varies from year to year. In 2016 there have been six loaded convoys to Scotland by September.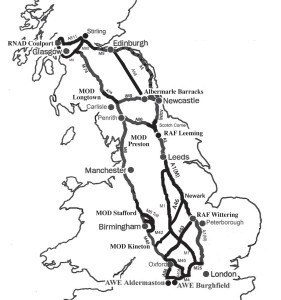 The MOD prefers convoys to travel on motorways and A roads but at either end of the route they must use smaller roads. Not all roads are passable due to the great weight of the convoy trucks. There is an eastern route, mainly relying on the A1(M), and a western route using the M6/M74, although they sometimes go across country from one to the other.
Emergency exercises take place on bases in East Anglia and occasionally elsewhere.
IMPORTANT : Remember Nuclear Warhead Convoys can be seen on other routes. It is vital that you tell someone from Nukewatch whenever you see one.